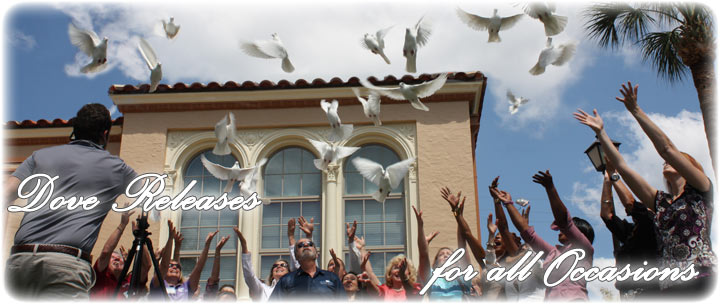 What happens to the birds when they are released?
When released, our doves normally circle the area a few times in formation, before acquiring their bearings and flying home.  Once home, they are rewarded with fresh water and food.
Can I have a white dove release anywhere?
There are some areas we will not release our birds.  For a safe dove release, the area must be free of overhead wires and sufficiently open to allow the doves freedom of flight.  If you have an unusual request, please contact us.  We have some general guidelines that include the following:
A dove release should be done at least two hours prior to sunset.  This is to give the birds the chance to return to their loft since they will lose their navigational ability after the sun sets.
A dove release should not be done during inclement weather.
A dove release should only be done outdoors.
How do they know where their home is?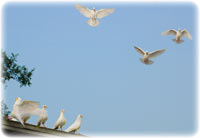 These particular doves are bred and trained to return to the safety of their home from over 500 miles away in just one day and possess a natural instinct to find their way home.  In practice, we keep our birds within 50 miles from their home in Lakeland, FL.
How are the doves trained to fly home?
We begin handling our birds at just a few weeks of age and homing training starts about 10 weeks later.  Initially we start with small distances and then build up to longer flights.
Who releases the doves?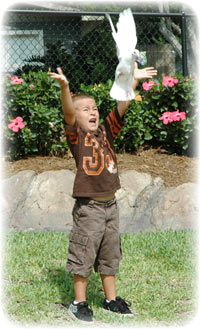 A Touch Above is always present at the time of release.  Our professional staff, is courteous, reliable, and dressed appropriately for your occasion.  We never ship the birds to be released.  However, various people can hold and enjoy the thrill of releasing the doves with our guidance.
How does the weather affect a dove release?
If the weather is inclement, then the release will be cancelled and no fee will be assessed.  Also, a release cannot take place less then 2 hours before sundown, so the birds have time to fly home.  Generally no release is performed after 5 p.m.
What is the release area for your dove releases?
Within an 50 mile radius of central Florida near Lakeland.
When are doves released at a wedding?
It can be done at any time during an outdoor wedding.  If it is a church affair, dove releases for weddings are typically performed after the couple exits the church to greet their guests.
Can I hold a dove?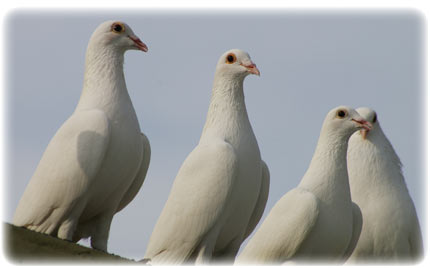 Yes.  We will show you how.  Representatives from A Touch Above are always on hand and can guide guests in holding and releasing the doves at the proper moment.  Our doves are easily handled, and the experience of sending one winging on its way skyward can be quite thrilling.
Do I need to worry about doves going to the bathroom during a release?
We pick the best birds for that day.  They are trained birds and have not responded that way in any release.  The actual release only lasts but a few moments, so the chances of this happening are very unlikely.
What type of dove is used in the release?
While bird releases at various celebrations are billed as "dove" releases, no ethical company would release a true dove.  An actual dove is smaller, not a strong flyer, and has no homing instinct.  It would be potentially cruel to perform a dove release with members of the species Streptopelia risoria.
Related to doves, white homing pigeons are a variety of the species Columba livia domestica.  They are slightly larger, have the homing ability, and are stronger flyers.  We always use white homing pigeons, as they return home.
Unless you are an ornithologist, it is unlikely you will be able to tell the difference between a dove and a white homing pigeon.  But no matter your profession, our enthusiastic little performers will capture your heart.
Do you provide butterfly releases too?
No.  Our birds are true performers, enjoy a pampered life, and are rewarded for their efforts.  However beautiful butterflies may be, they can never be more than kidnap victims forced to spend a part of their short lives in captivity and far from home.  Often butterflies are delivered injured and, unable to fend for themselves, fly away to an early death.
---
Gift Certificates
Want to give the gift of a white dove release for the wedding of the couple you love, or perhaps for that special anniversary or event? At A Touch Above, we will be happy to prepare a gift certificate for the appropriate Dove Release package.
Terms and Conditions for Gift Certificate Redemption
We release only white birds that have been properly cared for and trained.
Location of event must be within 50 miles of Lakeland, FL.
A Touch Above reserves the right to make the final decision to cancel release. We will not release our birds in rain, fog, high wind, or any other acts of nature with the safety of the birds coming first.
Birds will not be released at night (must be at least two hours prior to sunset).  We will not release the birds at indoor events, and we do not ship birds for self-release.  The birds will not be released if there is any danger to their safety.  This includes loose animals or overhead wires (at the discretion of A Touch Above).
Event date and time must be scheduled at least two months in advance and must be agreed upon by A Touch Above.
Release must take place within 45 minutes of scheduled time.
If the release is cancelled by A Touch Above due to inclement weather or other act of nature, the person named on this certificate will be entitled to the cash value of the certificate.
If the scheduled release is cancelled by the certificate holder at any time, this certificate will be void and no cash will be issued by A Touch Above.
Contact A Touch Above today to learn how practical and affordable it is to add the heartfelt touch of a live dove release to your memorable occasion.
Service Area
In Florida, A Touch Above serves customers in an 50 mile radius of central Florida near Lakeland.  We are proud to offer our celebrated dove release services to the cities of Bradenton, Brandon, Clearwater, Dade City, Highland City, Kissimmee, Lakeland, Orlando, Plant City, St. Petersburg, Riverview, Tampa, Valrico, Winter Haven, and Zephyrhills.
We now also offer releases in , Avon Park, Bay Pines, Belle Air Shores, Bloomingdale, Brandon, Carrollwood Village, Celebration, Champions Gate, Dunedin, Indian Rocks Beach, Lake Buena Vista, Land O' Lakes, Lutz, New Port Richey, Oldsmar, Palm Harbor, Pass-A-Grille Beach, Poinciana, Redington Beach, Safety Harbor, Sebring,  Seffner, Tarpon Springs, Treasure Island, Valrico, Wesley Chapel, Windermere, Winter Garden.